Sooooo...
Been watching Sailor Moon Crystal. Love it.
I've been thinking about spiffing up my Luna cosplay for AB15. The dress is still in good shape, as are the gloves. The boots are dead, but I have new ones I can use. However, I was thinking of ditching the ears and making a Luna hat instead. Also, I was considering using my Sunako wig rather than the curly black one I used originally. It got a lot of wear and abuse, and while I have for the most part fixed it, I wonder if maybe the Sunako wig would look better?
My original cosplay:
My Sunako wig (not Sunako in the picture, though, that's just what I call this wig):
And this is a picture of the hat I want to make (not my creation in the picture, credit goes to
pawstar
on etsy):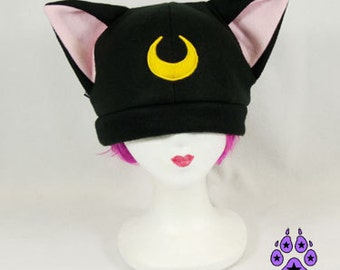 So I dunno...I'd only be wearing her for half the day Saturday. I'm only going to AB15 Saturday and Sunday due to another event on Friday that is more of a priority than the con. And I still have as a goal cosplaying Makise Kurisu from Steins;Gate for the weekend. But I love Sailor Moon, and the new series is so great, I would like to show my love for it at the con!